04.06.2018 | Original Paper | Ausgabe 4/2018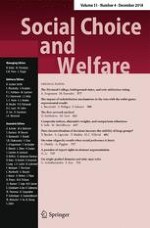 On some oligarchy results when social preference is fuzzy
Zeitschrift:
Autoren:

Conal Duddy, Ashley Piggins
Wichtige Hinweise
We are grateful to participants at the 13th Meeting of the Society for Social Choice and Welfare, in particular Christian List and Bill Zwicker, for their helpful comments on this paper. We also thank the Managing Editor, Clemens Puppe, the Associate Editor, and two anonymous referees for their comments on the original version of this paper. Financial support from the Irish Research Council for the Humanities and Social Sciences co-funding from the European Commission, and from the Spanish Ministry of Economy and Competitiveness through MEC/FEDER Grant ECO2013-44483-P is gratefully acknowledged.
Abstract
We consider a model in which individual preferences are orderings of social states, but the social preference relation is fuzzy. We motivate interest in the model by presenting a version of the strong Pareto rule that is suited to the setting of a fuzzy social preference. We prove a general oligarchy theorem under the assumption that this fuzzy relation is quasi-transitive. The framework allows us to make a distinction between a "strong" and a "weak" oligarchy, and our theorem identifies when the oligarchy must be strong and when it can be weak. Weak oligarchy need not be undesirable.