30.09.2016 | Original Paper | Ausgabe 6/2016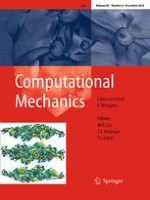 On stochastic FEM based computational homogenization of magneto-active heterogeneous materials with random microstructure
Zeitschrift:
Autoren:

Dmytro Pivovarov, Paul Steinmann
Abstract
In the current work we apply the stochastic version of the FEM to the homogenization of magneto-elastic heterogeneous materials with random microstructure. The main aim of this study is to capture accurately the discontinuities appearing at matrix-inclusion interfaces. We demonstrate and compare three different techniques proposed in the literature for the purely mechanical problem, i.e. global, local and enriched stochastic basis functions. Moreover, we demonstrate the implementation of the isoparametric concept in the enlarged physical-stochastic product space. The Gauss integration rule in this multidimensional space is discussed. In order to design a realistic stochastic Representative Volume Element we analyze actual scans obtained by electron microscopy and provide numerical studies of the micro particle distribution. The SFEM framework described in our previous work (Pivovarov and Steinmann in Comput Mech 57(1): 123–147,
2016
) is extended to the case of the magneto-elastic materials. To this end, the magneto-elastic energy function is used, and the corresponding hyper-tensors of the magneto-elastic problem are introduced. In order to estimate the methods' accuracy we performed a set of simulations for elastic and magneto-elastic problems using three different SFEM modifications. All results are compared with "brute-force" Monte-Carlo simulations used as reference solution.