2019 | OriginalPaper | Buchkapitel
On Synergies Between Information Retrieval and Digital Libraries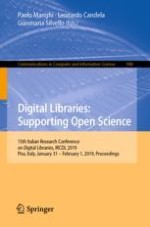 Autoren: Maristella Agosti, Erika Fabris, Gianmaria Silvello
Abstract
In this paper we present the results of a longitudinal analysis of ACM SIGIR papers from 2003 to 2017. ACM SIGIR is the main venue where Information Retrieval (IR) research and innovative results are presented yearly; it is a highly competitive venue and only the best and most relevant works are accepted for publication. The analysis of ACM SIGIR papers gives us a unique opportunity to understand where the field is going and what are the most trending topics in information access and search.
In particular, we conduct this analysis with a focus on Digital Library (DL) topics to understand what is the relation between these two fields that we know to be closely linked. We see that DL provide document collections and challenging tasks to be addressed by the IR community and in turn exploit the latest advancements in IR to improve the offered services.
We also point to the role of public investments in the DL field as one of the core drivers of DL research which in turn may also have a positive effect on information accessing and searching in general.