04.02.2017 | Ausgabe 2/2018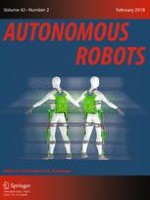 On the advantages of foveal mechanisms for active stereo systems in visual search tasks
Zeitschrift:
Autoren:

Rui Pimentel de Figueiredo, Alexandre Bernardino, José Santos-Victor, Helder Araújo
Wichtige Hinweise
This is one of several papers published in
Autonomous Robots
comprising the Special Issue on Active Perception.
Abstract
In this work we study how information provided by foveated images sampled according to the log-polar transformation can be integrated over time in order to build accurate world representations and accomplish visual search tasks in an efficient manner. We focus on a specific visual information modality depth and on how to store it in a flexible memory structure. We propose a probabilistic observational model for a stereo system that relies on the Unscented Transform in order to propagate uncertainty in stereo matching, due to spatial quantization in the retina, to the 3D Cartesian domain. Probabilistic depth measurements are integrated in a novel Sensory Ego-Sphere whose topology can be biased with foveal-like distributions, according to the autonomous agent short-term tasks and goals. Furthermore, we investigate an Upper Confidence Bound algorithm for the task of simultaneously finding the closest object to the observer (visual search) and learning the surrounding environment 3D map (mapping). The performance of task execution is assessed both with a foveated log-polar sensor and a classical uniform one. The advantage of foveal vision and custom ego-sphere representations are illustrated in a series of experiments with a realistic simulator.