2020 | OriginalPaper | Buchkapitel
On the Convergence Rate of the Dirichlet-Neumann Iteration for Coupled Poisson Problems on Unstructured Grids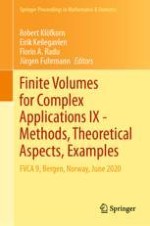 Erstes Kapitel lesen
Autoren: Morgan Görtz, Philipp Birken
Abstract
We consider thermal fluid structure interaction with a partitioned approach, where typically, a finite volume and a finite element code would be coupled. As a model problem, we consider two coupled Poisson problems with heat conductivities
\(\lambda _1\)
,
\(\lambda _2\)
in one dimension on intervals of length
\(l_1\)
and
\(l_2\)
. Hereby, we consider linear discretizations on arbitrary meshes, such as finite volumes, finite differences, finite elements. For these, we prove that the convergence rate of the Dirichlet-Neumann iteration is given by
\(\lambda _1l_2/\lambda _2l_1\)
and is thus independent of discretization and mesh.