22.03.2018 | Ausgabe 6/2018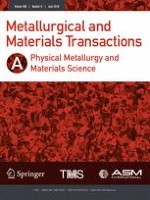 On the Corrosion Performance of Monel 400 in Molten LiCl-Li2O-Li at 923 K
Zeitschrift:
Autoren:

William Phillips, Augustus Merwin, Dev Chidambaram
Wichtige Hinweise
Manuscript submitted 18 January 2018.
Abstract
The corrosion resistance of a Ni-Cu alloy, Monel 400, in molten LiCl-Li2O-Li at 923 K (650 °C) was investigated. Exposure testing of Monel 400 samples submerged in molten LiCl-2 wt pct Li2O solutions with Li concentrations between zero and 1 wt pct was performed at 923 K (650°C) for 20 hours. Post exposure surface analysis was performed using X-ray diffraction, scanning electron microscopy, energy dispersive X-ray spectroscopy, optical microscopy, micro-Vickers hardness testing, and X-ray photoelectron spectroscopy, while inductively coupled plasma optical emission spectroscopy was used to quantify the rate of material leaching. The extent of material degradation was observed to be strongly correlated to the concentration of metallic Li in the molten LiCl-Li2O system.