02.01.2016 | Ausgabe 3/2016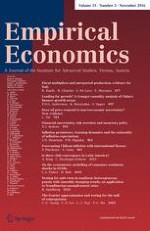 On the econometric modelling of consumer sentiment shocks in SVARs
Zeitschrift:
Autoren:

Lance A. Fisher, Hyeon-seung Huh
Wichtige Hinweise
We thank Adrian Pagan for bringing this topic to our attention and for helpful discussion, and two anonymous referees for useful feedback. Any errors or omissions are our own. The first author gratefully acknowledges financial support from the Australian Research Council (Grant DP120102239). The second author thanks the Ministry of Education of the Republic of Korea and the National Research Foundation of Korea (NRF-2015S1A5A2A01010187) for funding.
Abstract
This paper applies recently developed methods for modelling systems of
I
(0) and
I
(1) variables to SVARs of consumer sentiment. We first model the shock associated with the structural equation for the
I
(0) consumer sentiment variable as having a permanent effect on the
I
(1) variables. Here it appears to convey news about future productivity. The contribution of the accumulated consumer sentiment shock to the permanent component of consumption and GDP increases substantially from 2000 to 2007, a finding we relate to recent work on boom–bust productivity episodes. We then model the sentiment shock as having a transitory effect on the
I
(1) variables. Here it appears to convey little news and is best thought of as an 'animal spirits' shock unrelated to productivity. The impact responses suggest that 'animal spirits' are not important in either model.