27.02.2018 | Original Contribution | Ausgabe 4/2018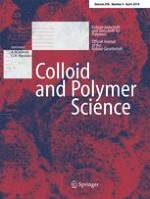 On the fracture mechanism of a symmetric interface of glassy poly(methyl methacrylate) self-healed at a temperature well below the bulk glass transition temperature
Zeitschrift:
Autoren:

Yuri M. Boiko, Rustam I. Mamalimov
Abstract
Attenuated total reflection Fourier-transformed infrared spectroscopy (ATR-FTIR) has been used for the elucidation of the molecular mechanism of fracture of weak polymer−polymer interfaces self-healed partially at a temperature (
T
) well below the bulk glass transition temperature (
T
g
bulk
). For this purpose, a symmetric interface of the carbon-chain polymer such as poly(methyl methacrylate) (PMMA) has been used. It has been found that the integral intensity and the half-width of the band
ν
 = 1725 cm
−1
for the fractured PMMA−PMMA interface self-healed at
T
 = 64 °С, i.e. at
T
 = 
T
g
bulk
– 45 °С, are higher as compared to those for the original PMMA surface and for the PMMA surface annealed at
T
 = 
T
g
bulk
− 45 °С. The difference found is assigned to the chain scission of interdiffused PMMA chains resulting in the creation of new chain ends and their following oxidation.