2016 | OriginalPaper | Buchkapitel
On the Full and Global Accuracy of a Compact Third Order WENO Scheme: Part II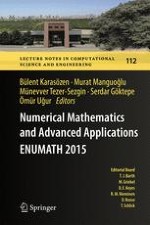 Erstes Kapitel lesen
Autor: Oliver Kolb
Abstract
Recently, we showed in (O. Kolb,
SIAM J. Numer. Anal.
, 52 (2014), pp. 2335–2355) for which parameter range the compact third order WENO reconstruction procedure introduced in (D. Levy, G. Puppo, and G. Russo,
SIAM J. Sci. Comput.
, 22 (2000), pp. 656–672) reaches the optimal order of accuracy (
h
3
in the smooth case and
h
2
near discontinuities). This is the case for the parameter choice
ɛ
 = 
Kh
q
in the weight design with
q
 ≤ 3 and
pq
 ≥ 2, where
p
 ≥ 1 is the exponent used in the computation of the weights in the WENO scheme. While these theoretical results for the convergence rates of the WENO reconstruction procedure could also be validated in the numerical tests, the application within the semi-discrete central scheme of (A. Kurganov, and D. Levy,
SIAM J. Sci. Comput.
, 22 (2000), pp. 1461–1488) together with a third order TVD-Runge-Kutta scheme for the time integration did not yield a third order accurate scheme in total for
q
 > 2. The aim of this follow-up paper is to explain this observation with further analytical and numerical results.