06.05.2020 | Special Issue: A Tribute to Prof. Dr. Gunther Eggeler, Invited Paper | Ausgabe 2/2020 Open Access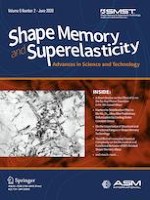 On the Importance of Structural and Functional Fatigue in Shape Memory Technology
Zeitschrift:
Autor:

Jan Frenzel
Wichtige Hinweise
This invited article is part of a special issue of Shape Memory and Superelasticity to honor Prof. Dr.-Ing. Gunther Eggeler. This special issue was organized by Prof. Hüseyin Sehitoglu, University of Illinois at Urbana-Champaign, and Prof. Dr.-Ing. Hans Jürgen Maier, Leibniz Universität Hannover.
Publisher's Note
Springer Nature remains neutral with regard to jurisdictional claims in published maps and institutional affiliations.
Introduction
Shape memory technology has evolved into mature materials engineering field [
1
]. Two types of shape memory effects (SMEs), a thermal memory (one/two-way effect, 1/2 WE) and mechanical memory (pseudoelasticity, PE), are exploited for advanced applications in aerospace, automotive, construction and environmental engineering, and in the field of medical technology, e.g., [
1
–
6
]. Both types of SMEs rely on the martensitic transformation, a solid-state transformation where a high-temperature phase austenite transforms into a low-temperature phase martensite on cooling/mechanical loading [
7
,
8
]. The reverse transformation occurs upon heating/unloading. Many fundamental aspects of the martensitic transformation are well understood, e.g., [
7
,
9
–
12
]. For the field of shape memory technology, it is important that the formation of martensite is strongly governed by the chemical composition and the microstructure of an alloy [
13
–
18
]. This allows to control and to optimize properties and performance of shape memory alloys (SMAs) for specific applications. During the last decades, the evolution of shape memory technology has significantly benefitted from fundamental and application-related research [
19
,
20
]. The main trends in SMA research were driven by the need for new alloys with high transformation temperatures [
21
–
24
] and good fatigue resistance [
25
–
30
]. Today, a better understanding of mechanical, functional, and microstructural aspects [
16
–
18
,
31
–
36
], the possibility of 3D printing [
37
–
40
], the medical application of SMAs [
41
–
43
], and their use in niche applications such as solid-state refrigeration [
44
–
48
], advance the field. However, there are specific issues which still hamper the breakthrough of SMA technology. The two probably most important generic issues are structural and functional fatigue. They both limit the performance and the exploitable service lives of shape memory components.
In 2003, Eggeler et al. [
49
] highlighted the overriding importance of both, structural and functional fatigue of SMAs, and this is today well appreciated [
30
,
50
–
52
]. Structural fatigue refers to the nucleation and growth of cracks during cyclic loading, which leads to fatigue failure. In contrast, functional fatigue is related to the degeneration of specific functional characteristics, such as actuator stroke, recoverable strain, plateau stresses, hysteresis width, or transformation temperatures. Functional fatigue is caused by irreversible microstructural changes. In the present work, a short overview on the importance of these two types of degenerative processes is provided and fields in need of further work are identified.
Structural Fatigue
Functional Fatigue
Coupling Between Structural and Functional Fatigue
A strict differentiation between functional and structural fatigue is not always possible. Bigeon and Morin [
124
] studied the functional performance of NiTiCu and CuZnAl SMAs during thermal cycling under
constant
load. As a striking result, they observed that their samples broke after a certain number of cycles. The number of cycles to failure was depending on the loading stress, and increasing stress levels resulted in shorter fatigue lives. Bigeon and Morin [
124
] also showed that NiTiCu SMAs were less prone to this coupled functional/structural fatigue (CFSF) than CuZnAl alloys. Figure
6
presents SEM micrographs of NiTi wires after CFSF testing. The sample was loaded at a constant stress of 450 MPa and subjected to heating/cooling cycles until fracture occurred after 10,328 cycles. Details on experiments are given elsewhere [
125
]. The fracture surface, Fig.
6
a, shows that a large number of small cracks (highlighted by arrows) have formed in surface-near regions from where they grew inwards into the wire prior to rupture. Figure
6
b shows the skin surface of the wire. A high density of short cracks is visible, which grow perpendicular to the loading direction. The mechanism for the formation and growth of these cracks are not well understood at present. It has been suggested that cycling results in an increase of the surface roughness [
126
] which facilitates crack formation. Experimental studies are scarce at present, [
115
,
127
–
131
]. Further work is required to analyze if and how incompatibilities between the lattices of martensite and austenite and related irreversible processes contribute to a coupling between functional and structural fatigue.
×
Summary
The present work stresses the importance of structural and functional fatigue in shape memory technology. Both limit the exploitable service lives of shape memory components. While a good state of knowledge has been established in both fields during the last decades, there are still aspects which require scientific attention. NiTi SMAs are prone to the formation of small cracks. There is a need for a better understanding of how micro-cracks can grow in a material which undergoes a stress-induced martensitic transformation, which redistributes stresses in the microstructure. The importance of functional fatigue has been highlighted. The functional stability of SMAs can be improved by (1) making phase transformations smoother and (2) by improving material strength to increase fatigue resistance. Further work is required to understand interactions between functional and structural fatigue and to clarify potential effects of solid-solution strengthening.
Acknowledgements
Open Access funding provided by Projekt DEAL. The author acknowledges funding through the Collaborative Research Center SFB 459 (Shape Memory Technology) and through the Priority Program SPP 2006, "Legierungen mit komplexer Zusammensetzung – Hochentropielegierungen (CCA – HEA)", by the Deutsche Forschungsgemeinschaft (DFG). M. Rahim and A. Wieczorek are acknowledged for their support of the present study. B. Theren and B. Kuhlenkötter are acknowledged for providing the sample studied in Fig.
6
.
Open Access
This article is licensed under a Creative Commons Attribution 4.0 International License, which permits use, sharing, adaptation, distribution and reproduction in any medium or format, as long as you give appropriate credit to the original author(s) and the source, provide a link to the Creative Commons licence, and indicate if changes were made. The images or other third party material in this article are included in the article's Creative Commons licence, unless indicated otherwise in a credit line to the material. If material is not included in the article's Creative Commons licence and your intended use is not permitted by statutory regulation or exceeds the permitted use, you will need to obtain permission directly from the copyright holder. To view a copy of this licence, visit
http://​creativecommons.​org/​licenses/​by/​4.​0/​
.
Publisher's Note
Springer Nature remains neutral with regard to jurisdictional claims in published maps and institutional affiliations.