26.03.2018 | Ausgabe 8/2018 Open Access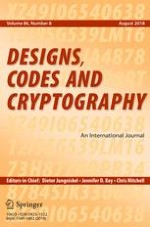 On the (in)efficiency of non-interactive secure multiparty computation
Zeitschrift:
Autoren:

Maki Yoshida, Satoshi Obana
Wichtige Hinweise
Communicated by L. Perret.
The preliminary version of this paper is presented in [
16
]. The difference is an extension to the so-called offline-online model, by which the efficiency of online communication is further improved.
Abstract
Secure multi-party computation (MPC) enables multiple players to cooperatively evaluate various functions in the presence of adversaries. In this paper, we consider
non-interactive
MPC (NIMPC) against honest-but-curious adversaries in the information-theoretic setting, which was introduced by Beimel et al. at CRYPTO 2014. Their main focus is to realize stronger security while completely avoiding interaction, and succeeded to show that every function admits a fully robust NIMPC protocol. In this paper, we further develop the study of NIMPC. We first present a simple lower bound on the communication complexity derived from the correctness requirement of NIMPC. Secondly, we present an efficient NIMPC protocol for indicator functions, which is an important building block of NIMPC protocols. An NIMPC protocol for arbitrary functions is also constructed from the proposed NIMPC for indicator functions by using the generic compiler introduced by Beimel et al. in CRYPTO 2014. The communication complexities of NIMPC protocols presented in this paper are much more efficient than the previous ones. In fact, the gap between the lower and upper bounds of the communication complexity is reduced from exponential in the input length to
quadratic
. Finally, we show some improvements on the efficiency in the so-called
offline-online
model. Specifically, for some sets of functions, the exponential amount of
offline
communication reduces the
online
communication to almost optimum amount in the standard model.