11.05.2018 | Topical Collection: Superalloys and Their Applications | Ausgabe 9/2018 Open Access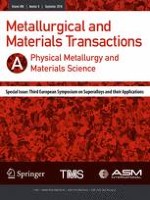 On the Influence of Nb/Ti Ratio on Environmentally-Assisted Crack Growth in High-Strength Nickel-Based Superalloys
Zeitschrift:
Autoren:

A. A. N. Németh, D. J. Crudden, D. M. Collins, V. Kuksenko, C. H. Liebscher, D. E. J. Armstrong, A. J. Wilkinson, R. C. Reed
Wichtige Hinweise
Manuscript submitted October 16, 2017.
Abstract
The effect of Nb/Ti ratio on environmentally-assisted crack growth of three prototype Ni-based superalloys is studied. For these alloys, the yield strength is unaltered with increasing Nb/Ti ratio due to an increase in grain size. This situation has allowed the rationalization of the factors influencing damage tolerance at 700 °C. Primary intergranular cracks have been investigated using energy-dispersive X-ray spectroscopy in a scanning transmission electron microscope and the analysis of electron back-scatter diffraction patterns. Any possible detrimental effect of Nb on the observed crack tip damage due to Nb-rich oxide formation is not observed. Instead, evidence is presented to indicate that the tertiary γ′-precipitates are dissolving ahead of the crack consistent with the formation of oxides such as alumina and rutile. Our results have implications for alloy design efforts; at any given strength level, both more and less damage-tolerant variants of these alloys can be designed.