01.10.2019 | XXIII INTERNATIONAL SYMPOSIUM "NANOPHYSICS AND NANOELECTRONICS", NIZHNY NOVGOROD, MARCH 11–14, 2019 | Ausgabe 10/2019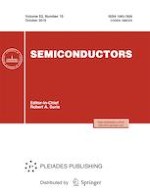 On the Intracenter Relaxation of Shallow Antimony Donors in Strained Germanium
Zeitschrift:
Autoren:

V. V. Tsyplenkov, V. N. Shastin
Wichtige Hinweise
Translated by E. Bondareva
Abstract
Long-wavelength acoustic phonon-assisted relaxation rates for the excited 1
s
(
T
), 2
p
0
, 2
s
, 3
p
0
, 2
p
±
, 4
p
0
, and 3
p
±
states of antimony donors in a germanium crystal are calculated. The effect of the uniaxial compressive strain of a crystal along the [111] crystallographic direction on the relaxation rates is discussed. The results of calculations are compared with the measured times of relaxation of nonequilibrium states of donor centers by the pump-probe method. A comparison with the times obtained experimentally by the submillimeter photoconductivity method is made.