01.01.2014 | Methodologies and Application | Ausgabe 1/2014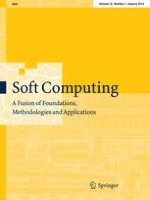 On the new solutions for a fully fuzzy linear system
Zeitschrift:
Autoren:

T. Allahviranloo, A. A. Hosseinzadeh, M. Ghanbari, E. Haghi, R. Nuraei
Abstract
In this paper, we propose a new method to present a fuzzy trapezoidal solution, namely "suitable solution", for a fully fuzzy linear system (FFLS) based on solving two fully interval linear systems (FILSs) that are 1-cut and 0-cut of the related FILS. After some manipulations, two FILSs are transformed to 2
n
crisp linear equations and 4
n
crisp linear nonequations and
n
crisp nonlinear equations. Then, we propose a nonlinear programming problem (NLP) to computing simultaneous (synchronic) equations and nonequations. Moreover, we define two other new solutions namely, "fuzzy surrounding solution" and "fuzzy peripheral solution" for an FFLS. It is shown that the fuzzy surrounding solution is placed in a tolerable fuzzy solution set and the fuzzy peripheral solution is placed in a controllable fuzzy solution set. Finally, some numerical examples are given to illustrate the ability of the proposed methods.