01.06.2011 | Ausgabe 2/2011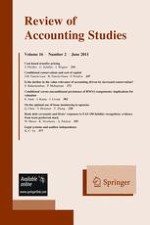 On the optimal use of loose monitoring in agencies
Zeitschrift:
Autoren:

Qi Chen, Thomas Hemmer, Yun Zhang
Abstract
We study the governance implications of firms being privately informed of their potential productivity before contracting with an agent to supply unobservable effort. We show that it can be optimal for high potential firms to have "loose monitoring" in the sense that the monitoring system is less perfect than what is implied by a standard agency model a la Holmstrom (The Bell J Econ 10:74–91,
1979
). Loose monitoring is used to achieve separation among different types of firms such that firms with low potential do not have incentives to imitate contracts offered by high potential firms. Our findings imply that although loose monitoring may be a symptom of firms squandering scarce resources provided by investors, it can also arise as an optimal contracting arrangement.