01.10.2019 | APPLIED ARTIFICIAL INTELLIGENCE SYSTEMS. KNOWLEDGE-BASED AND INTELLIGENCE SYSTEMS | Ausgabe 4/2019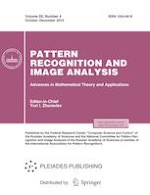 On the Procedures of Generation of Numerical Features over Partitions of Sets of Objects in the Problem of Predicting Numerical Target Variables
Zeitschrift:
Autoren:

I. Yu. Torshin, K. V. Rudakov
Wichtige Hinweise
Ivan Yur'evich Torshin.
Born 1972. Graduated from the Department of Chemistry, Moscow State University, in 1995. Received candidates degrees in chemistry in 1997 and in physics and mathematics in 2011. Currently is a senior researcher at Dorodnicyn Computing Centre, an associate professor at Moscow Institute of Physics and Technology, lecturer at the Faculty of Computational Mathematics and Cybernetics, Moscow State University, leading scientist at the Russian Branch of the Trace Elements Institute for UNESCO, and a member of the Center of Forecasting and Recognition. Author of 450 publications in peer-reviewed journals in biology, chemistry, medicine, and informatics and of 9 monographs: 5 in Russian and 4 in English (the series "Bioinformatics in Post-genomic Era", Nova Biomedical Publishers, NY, 2006-2009).
Konstantin Vladimirovich Rudakov.
Born 1954. Russian mathematician, corresponding member of the Russian Academy of Sciences, Head of the Department of Computational Methods of Forecasting at the Dorodnicyn Computing Centre, Informatics and Control Federal Research Center, Russian Academy of Sciences, and Head of the Intelligent Systems Chair at the Moscow Institute of Physics and Technology.
Abstract
Analysis of criteria for the solvability/regularity of problems and of the correctness of algorithms is applied here to the problem of prediction of the values of numerical variables. It is shown that partial regularity is a necessary and sufficient condition for the solvability of the corresponding system of the classification problems. Cross-validation experiments conducted on several datasets from the field of biomedicine (non-invasive diagnostics of magnesium concentration in blood plasma), bioinformatics (prediction of the protein secondary structure), and solid-state physics (prediction of the properties of high-temperature superconductors) have demonstrated the effectiveness of the developed methods for generating "synthetic" informative numerical features and for increasing the accuracy of prediction of the numerical target variables.