2017 | OriginalPaper | Buchkapitel
On the Smallest Grain of Salt to Get a Unique Identity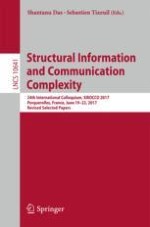 Erstes Kapitel lesen
Autoren: Peva Blanchard, Rachid Guerraoui
Abstract
We study the fundamental
enumeration
problem in asynchronous message-passing networks. Anonymous processes have to eventually decide on pairwise distinct identifiers, despite all starting in the same initial state. It is known since Angluin's seminal result [
2
] that some
grain of salt
is required for distributed algorithms to solve the problem, e.g., the system needs to have a non-symmetrical topology or unbiased independent random bits.
The starting point of this paper is the observation that these approaches demand too strong assumptions. In short, by adding
time
to the picture, we show that the enumeration problem can be solved with far less. The idea is to consider a schedule of events in a distributed system as a
space-time structure
that is
gradually learnt
by the processes. We introduce the notion of
divergence time
which essentially measures the time by which the causal order induced by the system schedule has differentiated all the processes.
We prove lower bounds on the running time of any algorithm solving enumeration in terms of divergence time. In particular, we show that any adversary scheduler against which the enumeration problem can be solved
necessarily
selects schedules with
finite divergence time
.
We prove that this last condition is
sufficient
: we present the T
orche
algorithm which solves enumeration for all schedules with finite divergence time. In this sense, having finite divergence time is the smallest grain of salt required to solve the enumeration problem.