01.09.2011 | Ausgabe 9/2011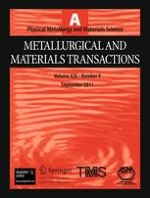 On the Stress-Induced Formation of R-Phase in Ultra-Fine-Grained Ni-Rich NiTi Shape Memory Alloys
Zeitschrift:
Autoren:

J. Olbricht, A. Yawny, J. L. Pelegrina, A. Dlouhy, G. Eggeler
Wichtige Hinweise
Manuscript submitted August 16, 2010
Abstract
Phase transformations in binary ultra-fine-grained (UFG) pseudoelastic NiTi wires were studied in a wide temperature range using mechanical loading/unloading experiments, resistance measurements, differential scanning calorimetry (DSC), thermal infrared imaging, and transmission electron microscopy (TEM). The formation of R-phase can be detected in the mechanical experiments. It is shown that the stress-strain response of the R-phase can be isolated from the overall stress-strain data. The R-phase always forms prior to B19′ when good pseudoelastic properties are observed. The stress-induced B2 to R-phase transition occurs in a homogeneous manner, contrary to the localized character of the B2/R to B19′ transformations. The temperature dependence of the critical stress values for the formation of the martensitic phases shows a Clausius Clapeyron type of behavior with constants close to 6 MPa/K (B19′) and 18 MPa/K (R-phase). A stress-temperature map is suggested that summarizes the experimentally observed sequences of elementary transformation/deformation processes.