05.01.2016 | Original Research | Ausgabe 1-2/2017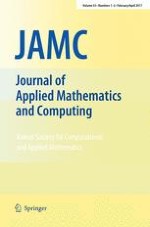 On the three-queue priority polling system with threshold service policy
Zeitschrift:
Autoren:

Zaiming Liu, Yuqing Chu, Jinbiao Wu
Abstract
In this paper, a priority polling system consisting of three
M
/
M
/ 1 queues, served by a single server is investigated. Queue 1 has the Head-of-Line (HoL) priority and Queue 2 has a higher priority over Queue 3 with threshold
N
. All the switches are instantaneous and preempting. Using the Kernel method we derive the probability of generating functions of the stationary joint queue-length distributions, which yields the mean queue lengths and the mean sojourn times. Furthermore, we consider the limit behaviors in the light-traffic and heavy-traffic scenarios. And an interpolation approximation for the sojourn times utilizing the light and heavy traffic limits are illustrated. To test the validity, we also undertake some simulation works.