01.10.2019 | XXIII INTERNATIONAL SYMPOSIUM "NANOPHYSICS AND NANOELECTRONICS", NIZHNY NOVGOROD, MARCH 11–14, 2019 | Ausgabe 10/2019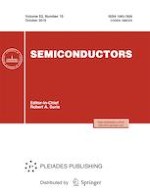 On the Two-Phonon Relaxation of Excited States of Boron Acceptors in Diamond
Zeitschrift:
Autor:

N. A. Bekin
Wichtige Hinweise
Translated by E. Smorgonskaya
Abstract
The relaxation of holes from excited states of boron acceptors in diamond with the emission of two optical phonons is studied theoretically. To describe the wave function of acceptor states, an electron-like Hamiltonian with an isotropic effective mass is used. The wave function of the ground state is determined by the quantum-defect method. The probability of the transition is calculated in the adiabatic approximation. It is assumed that the phonon dispersion law is isotropic and the phonon frequency is quadratically dependent on the wave-vector modulus, with the maximum and minimum frequencies ω
max
and ω
min
at the center and boundary of the Brillouin zone, respectively. A high sensitivity of the probability of the transition to the characteristic of phonon dispersion ω
max
– ω
min
is revealed, especially for the transition with the energy
E
T
in the range 2ℏω
min
≤
E
T
< ℏω
min
+ ℏω
max
. Depending on the energy of the transition and on the phonon dispersion, the two-phonon relaxation rate at the low-temperature limit varies from extremely small values (<10
8
s
–1
) near the threshold
E
T
= 2ℏω
min
to extremely large values (>10
12
s
–1
) in the "resonance" range ℏω
min
+ ℏω
max
≤
E
T
≤ 2ℏω
max
.