01.11.2014 | Ausgabe 6/2014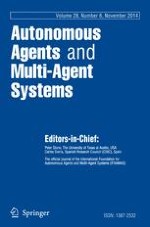 On the value of commitment
Zeitschrift:
Autoren:

Joshua Letchford, Dmytro Korzhyk, Vincent Conitzer
Abstract
In game theory, it is well known that being able to commit to a strategy before other players move can be beneficial. In this paper, we analyze
how much
benefit a player can derive from commitment in various types of games, in a quantitative sense that is similar to concepts such as the value of mediation and the price of anarchy. Specifically, we introduce and study the
value of pure commitment
(the benefit of committing to a pure strategy), the
value of mixed commitment
(the benefit of committing to a mixed strategy), and the
mixed versus pure commitment
ratio (how much can be gained by committing to a mixed strategy rather than a pure one). In addition to theoretical results about how large these values are in the extreme case in various classes of games, we also give average-case results based on randomly drawn normal-form games.