2016 | OriginalPaper | Buchkapitel
4. One-Group t-Test for the Mean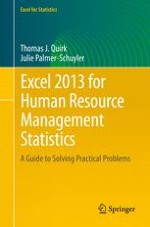 Erstes Kapitel lesen
Autoren: Thomas J. Quirk, Julie Palmer-Schuyler
Abstract
This chapter explains how to use one of the most popular and most helpful statistical tests in human resource management: the one-group t-test for the mean. This test compares the mean of your data set against the hypothesized population mean for your data to determine if the difference between these two values is "large enough" to be considered a "significant difference." The formula is presented, explained, and a practical example is given using your calculator. Seven steps are outlined for using this formula to test specific hypotheses about your data. These steps build on the hypothesis-testing steps you learned in Chap.
3
of this book. You will also learn how to find the absolute value of a number, how to find the critical value of t in the table given in Appendix E of this book, and how to state both the result and conclusion of your statistical test. In addition, the difference between the 95 % confidence interval about the mean (Chap.
3
) and the one-group t-test is explained. Three practice problems are given at the end of the chapter to test your Excel skills, and the answers to these problems appear in Appendix A of this book. An additional practice problem is presented in the Practice Test given in Appendix B along with its answer in Appendix C of this book.