2018 | OriginalPaper | Buchkapitel
7. One of Us: On Human Identity and Freaky Justice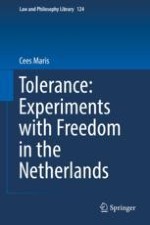 Erstes Kapitel lesen
Autor: Cees Maris
Abstract
This chapter concerns marginalized groups, in particular human 'freaks' who used to make their living by exposing their abnormalities in circuses and at carnivals. Such 'Very Special People' stand out since they challenge human identity: a Bearded Lady challenges the distinction between male and female; a Living Skeleton challenges the distinction between life and death. Such extreme cases also cast a focus on central ethical issues. First, a question of individual autonomy: should these marginalized individuals be free to expose themselves in freak shows? This question is answered in the positive.
Secondly, a question of distributive justice: what does treating 'freaks' as equals imply? Can liberal justice effectively guarantee their emancipation to respected members of society with an adequate sense of self-esteem? Rawls'
difference principle
allows a redistribution of socio-economic goods if this is to the benefit of the least advantaged. However, 'least advantaged' refers to groups with an economic disadvantage; it does not compensate for 'the outcome of the natural lottery'. An alternative liberal principle of social justice appears to be more promising: the state should compensate for disadvantages caused by sheer luck by guaranteeing special accommodations in the fields of work, education, and health. However, freaks will still be excluded from informal social circles because of their deviant appearances. An appeal to the Rawlsian primary good of self-respect is not helpful either, since 'beauty and grace' are essential conditions for self-esteem. With regard to freaks, then, liberal justice may provide necessary, but not sufficient, conditions for equal respect and self-respect.