01.02.2013 | Original Paper | Ausgabe 1/2013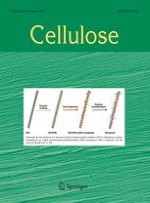 "One pot" homogeneous synthesis of thermoplastic cellulose acetate-
graft

-poly(

l

-lactide) copolymers from unmodified cellulose
Zeitschrift:
Autoren:

Yihao Luan, Jin Wu, Maosheng Zhan, Jinming Zhang, Jun Zhang, Jiasong He
Abstract
Using native cellulose as the starting material, cellulose acetate-
graft
-ploy (
l
-lactide) (CA-
g
-PLA) copolymers were successfully synthesized by "one-pot" process in an ionic liquid 1-allyl-3-methylimidazolium chloride (AmimCl). In this process, cellulose was first reacted with acetic anhydride, yielding cellulose acetate (CA), and then ring opening graft copolymerization of
l
-lactide was carried out from the residual hydroxyl groups of CA in the same solution using 4-dimethylaminopridine (DMAP) as the catalyst. Both acetyl and ploy (
l
-lactide) contents in CA-
g
-PLA copolymers could be well controlled by changing reaction conditions. The structures and thermal properties of CA-
g
-PLA copolymers were characterized. The glass transition temperature T
g
of copolymers decreased with increasing PLA content. Compared to the pure PLA and cellulose-
graft
-PLA copolymers, the CA-
g
-PLA copolymers possessed better thermo mechanical properties in a temperature range of 60–130 °C. When the molar substitution of PLA (MS
PLA
) was above 1.71, the CA-
g
-PLA copolymers exhibited thermoplastic behavior and could be processed by conventional thermal processing methods, such as injection molding and melt spinning.