05.04.2019 | Electronic materials | Ausgabe 13/2019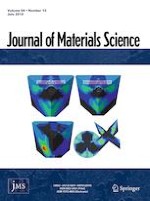 One-pot sonocatalyzed synthesis of sol–gel graphite electrodes containing gold nanoparticles for application in amperometric sensing
Zeitschrift:
Autoren:

Maria Laura Ligabue, Fabio Terzi, Chiara Zanardi, Gigliola Lusvardi
Wichtige Hinweise
Electronic supplementary material
Publisher's Note
Springer Nature remains neutral with regard to jurisdictional claims in published maps and institutional affiliations.
Abstract
We propose here a one-pot synthetic approach to prepare sol–gel graphite electrodes containing gold nanoparticles (AuNPs). At variance with the traditional synthesis, in which AuNPs are prepared in advance with respect to the silica matrix, they were here obtained directly inside the sol–gel, during its formation. Two reduction methods, namely chemical and thermal reduction, were used to achieve AuNPs starting from a suitable gold precursor, either consisting of NaAuCl4 or HAuCl4. Different experimental parameters were tested in order to direct the synthesis of the material to the characteristics sought, namely Si/Au molar ratio, graphite (g): silane precursor (mL) ratio, chemical nature of the gold precursor and of the reductant, duration and temperature of thermal treatment. Sol–gel was prepared by means of sonocatalysis, in order to reduce the amount of solvent and time necessary for the hydrolysis step. Composition of the material, as well as shape, size and distribution of AuNPs inside the silica matrix was evaluated by spectroscopic and microscopic techniques. Furthermore, electrochemical tests allowed us to ascertain the good conductivity of the composite material and the electrocatalytic activity of AuNPs with respect to glucose and ascorbic acid oxidation. These tests demonstrated that the electrodes obtained by thermal reduction show the best performance in terms of sensitivity for the detection of these analytes, suggesting the possible application of this composite in the field of amperometric sensing.