13.01.2016 | Original Paper | Ausgabe 8/2016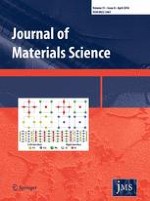 One-step in situ growth of Co9S8 on conductive substrate as an efficient counter electrode for dye-sensitized solar cells
Zeitschrift:
Autoren:

Linjie Zheng, Xiaohua Sun, Linlin Chen, Chao Bao, Weilong Luo, Niu Huang, Panpan Sun, Yihua Sun, Liang Fang, Lei Wang
Abstract
Cobalt sulfide counter electrodes for the dye-sensitized solar cell (DSSC) were successfully prepared on fluorine-doped tin oxide (FTO) glass substrates by a facial one-step in situ solvothermal method. The influences of prepared temperature on the synthesized phase, surface morphology, electrocatalytic, and photovoltaic performances of the cobalt sulfide counter electrodes were investigated with X-ray diffraction (XRD), field-emission scanning electron microscopy (SEM), cyclic voltammetry (CV), electrochemical impedance spectroscopy (EIS), Tafel, and photocurrent density–voltage (
J
–
V
) measurements. The results indicated that very thin Co
9
S
8
nanoparticle thin films grew on the FTO substrates and the Co
9
S
8
counter electrode prepared at 180 °C showed superior electrocatalytic activity, chemical stability, and photovoltaic performance. The DSSC based on the Co
9
S
8
counter electrode prepared at 180 °C exhibited an efficiency of 6.59 % which was comparable to the solar cell based on the sputtering Pt counter electrode (6.82 %). It indicated that Co
9
S
8
in situ growing on FTO glass substrate at 180 °C is a potential candidate to replace Pt as a low-cost and efficient counter electrode of DSSC.