12.08.2021 | Ausgabe 4/2021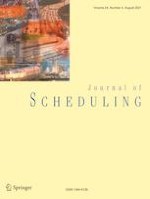 Online scheduling to minimize total weighted (modified) earliness and tardiness cost
Zeitschrift:
Autoren:

Arman Jabbari, Philip M. Kaminsky
Wichtige Hinweise
Publisher's Note
Springer Nature remains neutral with regard to jurisdictional claims in published maps and institutional affiliations.
Abstract
We formulate a single machine online scheduling problem where jobs with distinct processing times, weights, and due dates arrive over time and must be processed one at a time without preemption in order to minimize the total weighted earliness and tardiness cost. We introduce a new scheduling policy, the list-based delayed shortest processing time (LDWSPT) policy, which is amenable to theoretical analysis. We develop lower and upper bounds on the performance of the LDWSPT policy for the minimization of total weighted (modified) earliness and tardiness cost for the case of equal earliness and tardiness costs, and then extend our results for the case when these costs are not equal. Finally, we close the optimality gap that currently exists in the literature for several variants of single machine online scheduling problems in the presence of earliness and tardiness by proving that our proposed policy is an optimal online algorithm for these variants.