2017 | OriginalPaper | Buchkapitel
12. Online Service Providers' Liability, Copyright Infringement, and Freedom of Expression: Could Europe Learn from Canada?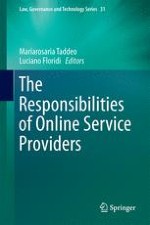 Erstes Kapitel lesen
Autor: Federica Giovanella
Abstract
Imposing a high level of liability to Online Service Providers may result in over-enforcement against allegedly infringing conducts, with a "chilling-effect" on freedom of speech.
The regime for OSPs' liability under Dir. 2000/31 was conceived as a well balanced approach. However, the interpretation of the European Court of Justice and of some national courts has raised the bar on providers' duties. The absence in Dir. 2000/31 of a notification system of infringing activities is surely one of the reasons why this scenario has come into existence. As a result, the Commission has been considering the adoption of a new regime of "notice & action".
An interesting approach is the Canadian one, based on the so-called "notice and notice" system. Upon receiving notification from the copyright owner, the OSP is not obliged to remove the content; it must only forward that notification to the alleged infringer. Furthermore, non-compliance leads only to the payment of statutory damages.
"Notice and notice" has proved an efficient and effective tool that correctly balances freedom of expression and providers' needs. In this paper, I compare the European and Canadian regulatory frameworks for OSPs' liability, and investigate whether the Canadian approach could offer a solution to some of the persisting problems of the European one.