24.08.2017 | Original Paper | Ausgabe 19-20/2017 Open Access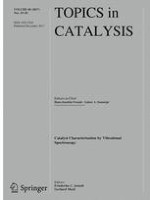 Operando

Spectroscopy of the Gas-Phase Aldol Condensation of Propanal over Solid Base Catalysts
Zeitschrift:
Autoren:

Ana M. Hernández-Giménez, Javier Ruiz-Martínez, Begoña Puértolas, Javier Pérez-Ramírez, Pieter C. A. Bruijnincx, Bert M. Weckhuysen
Wichtige Hinweise
Electronic supplementary material
The online version of this article (doi:
10.​1007/​s11244-017-0836-7
) contains supplementary material, which is available to authorized users.
Abstract
The gas-phase aldol condensation of propanal, taken as model for the aldehyde components in bio-oils, has been studied with a combined
operando
set-up allowing to perform FT-IR & UV–Vis diffuse reflectance spectroscopy (DRS) with on-line mass spectrometry (MS). The selected solid base catalysts, a cesium-exchanged X zeolite (Cs-X), a calcium hydroxyapatite (Ca-HA) and two alkaline metal-grafted ultrastable Y (Na- and Rb-USY) zeolites, were characterized ex-situ by FT-IR after CO (CO-IR) and pyridine (Py-IR) adsorption and subsequent desorption. The combined
operando
spectroscopy study shows that alkaline metal-grafted USY zeolites are the most selective catalysts towards aldol dimer product formation, while the hydroxyapatite was more selective for successive aldol condensation reactions. For Na-USY and Rb-USY, the C–C coupling seems to be the rate-determining step during the surface reaction, which is the limiting stage of the overall catalytic process. In contrast, for the two more basic catalysts, i.e., Cs-X and Ca-HA desorption is limiting the overall catalytic process. Furthermore, the combined
operando
FT-IR & UV–Vis DRS methodology allowed monitoring the formation of carbonaceous deposits as a function of reaction time. In particular, for Cs-X and Ca-HA the rapid formation of carbonaceous deposits was observed consisting of (poly-)aromatics and highly conjugated structures, respectively. The physicochemical properties of Ca-HA with strong basic sites and moderate acidity limit its deactivation despite the observed coke formation. On the other hand, both USY catalysts were more efficient in suppressing coke formation likely due to the moderate strength of their active sites.