25.11.2020 | Ausgabe 7/2020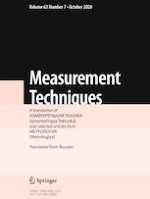 Operational Effectiveness of Phase-Chronometric and Neurodiagnostic Methods for Controlling Rolling-Element Bearing Degradation
Zeitschrift:
Autoren:

A. S. Komshin, K. G. Potapov, V. I. Pronyakin, A. B. Syritskii
Wichtige Hinweise
Translated from Izmeritel'naya Tekhnika, No. 7, pp. 43–50, July, 2020.
In the present study, problems associated with monitoring the condition of rolling-element bearings (REBs) – one of the most common technical devices of rotor units in machines and mechanisms – are considered. A novel approach to metrological support and assessment of the technical condition of rolling-element bearings during operation is presented. Existing approaches are analyzed, including methods of vibration diagnostics, envelope analysis, wavelet analysis, and others. The application of the phase-chronometric and neurodiagnostic methods for monitoring a bearing over its life cycle is considered. For this purpose, a unified format of measurement information was used. The possibility of providing REB diagnostics on the basis of measurement information obtained from the shaft and the cage is evaluated.