2014 | OriginalPaper | Buchkapitel
18. Operational Land Cover and Land Use Mapping in the Netherlands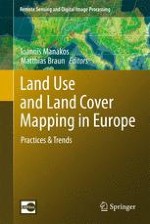 Erstes Kapitel lesen
Autor: Gerard W. Hazeu
Verlag: Springer Netherlands
Abstract
This chapter deals with long-term Dutch national land cover and land use mapping activities. Land cover and land use are often difficult to separate 1:1. For practical reasons in this chapter only the term land cover will be used with the exception of direct translations of the names of database. Four main databases can be discerned:
1.
Topographical database (Top10vector/Top10NL)
2.
Land Use database "Bestand BodemGebruik (BBG)"
3.
National Land Use database "Landelijk Grondgebruiksbestand Nederland (LGN)"
4.
CORINE Land Cover database
All four databases differ in spatial detail, semantics and update frequency. Also the format of the data, the history and application focus of the databases vary between each other. All databases use aerial photography and/or satellite imagery for their classifications. The LGN database is presented in more detail, i.e. the history, the production methodology and the land cover changes. The LGN database has a long history offering a unique possibility to follow developments in land cover for more than 20 years. Real land cover changes are monitored and can be separated from methodological changes. The differences between LGN and CORINE Land Cover database for the Netherlands are discussed here regarding spatial detail, temporal frequency and semantic mapping. The semantic relations between both databases are of the 1:1, 1:m and m:1 type.