01.08.2016 | Ausgabe 8/2016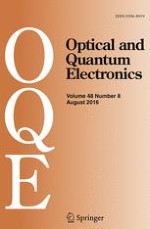 Optical characterization of a-IGZO thin film for simulation of a-IGZO(n)/µ-Si(p) heterojunction solar cell
Zeitschrift:
Autoren:

F. Azri, M. Labed, A. F. Meftah, N. Sengouga, A. M. Meftah
Abstract
Amorphous In–Ga–Zn–O (a-IGZO) thin films with (1:1:2) molar fraction were grown using spin coating deposition at room temperature on glass substrates. The effect of three rotation speeds (3000, 4000, 5000 rpm) of the spin coating machine on the films structure and transparency is studied by X-ray diffraction and UV–visible transmission. It was found that the film obtained at 3000 rpm has the best transmission which is over 80 % in the visible wavelength range. The absorbance at ultra violet wavelengths is used to calculate the band gap of the 3000 rpm sample and the obtained value is about 3.6 eV. The reflectance at visible and infrared wavelengths is used to calculate the refractive index. An average value of 2.45 was found. The calculated optical parameters were used as optical input parameters for modeling an a-IGZO(n)/µ-Si(p) heterojunction solar cell using a commercial software. The cell exposed to AM1.5 spectrum presents promising optimal outputs parameters: a short-circuit current density
J
sc
of 32.41 mA cm
−2
, an open-circuit voltage
V
oc
of 0.47 V, a fill factor
FF
of 38 % and a conversion efficiency
η
of 5.79 %.