2017 | OriginalPaper | Buchkapitel
Optical Characterization of Graphene and Its Derivatives: An Experimentalist's Perspective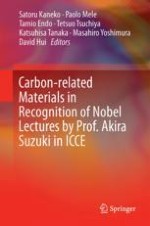 Erstes Kapitel lesen
Autoren: Dinh-Tuan Nguyen, Ya-Ping Hsieh, Mario Hofmann
Abstract
Carbon produces a wealth of different materials ranging from organic molecules to diamond crystals. One common challenge for the synthesis, application, and understanding of these materials is their characterization.
Graphene, a monoatomic layer of graphite, exemplifies the achievable diversity in properties of carbon materials and can serve as a model system for the analysis of complex molecules. Modifications, such as addition of heteroatoms, presence of edges, or interaction with adsorbates, significantly modify fundamental properties of graphene and allow inference to structure-property relations.
This contribution will demonstrate the ideal suitability of optical analysis techniques to provide complementary information on thus modified graphene. Even subtle changes in the mechanical, electronic, and chemical structure can be characterized by widely available and nondestructive optical spectroscopy methods.
We first provide an introduction of the available optical characterization techniques. Then, the ability of those techniques to elucidate changes of mechanical, electronic, and chemical properties of graphene will be described. To satisfy requirements from experimentalists, emphasis will be put on ease of access and quantitative relations.