2011 | OriginalPaper | Buchkapitel
11. Optical Properties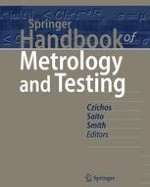 Erstes Kapitel lesen
Autoren: Tadashi Itoh, Prof. Tsutomu Araki, Ph.D. Masaaki Ashida, Prof. Tetsuo Iwata, Prof. Kiyofumi Muro, Dr. Noboru Yamada
Verlag: Springer Berlin Heidelberg
Abstract
At present, optical measurement methods are the most powerful tools for basic and applied research and inspection of the characteristic properties of a variety of materials, especially following the development of lasers and computers. Optical measurement methods are widely used for optical spectroscopy including linear and nonlinear optics and magneto-optics, conventional and unconventional optical microscopy, fiber optics for passive and active devices, optical recording for CD/DVD and MO disks, and various kinds of optical sensing.
In this chapter, as an introduction to the following sections, the concept and fundamentals of optical spectroscopy are described in Sect.
11.1
, including optical measurement tools such as light sources, detectors and spectrometers, and standard optical measurement methods such as reflection, absorption, luminescence, scattering, etc. A short summary of laser instruments is also included. In Sect.
11.2
the microspectroscopic methods that have recently become quite useful for nano-science and nano-technology are described, including single-dot/molecule spectroscopy, near-field optical spectroscopy and cathodo-luminescence spectroscopy using scanning electron microscopes. In Sect.
11.3
magneto-optics such as Faraday rotation is introduced and the superlattice of semi-magnetic semiconductors is applied for the imaging measurement of magnetic flux patters of superconductors as an example of spintronics. Section
11.4
is devoted to fascinating subjects in laser spectroscopy, such as nonlinear spectroscopy, time-resolved spectroscopy and THz spectroscopy. In Sect.
11.5
fiber optics is summarized, including transmission properties, nonlinear optical properties, fiber gratings, photonic crystal fibers, etc. In Sect.
11.6
optical recording technology for high-density storage is described in detail, including the measurement methods for the characteristic properties of phase-change and magneto-optical materials. Finally, in Sect.
11.7
a variety of optical sensing methods are described, including the measurement of distance, displacement, three-dimensional shape, flow, temperature and, finally, the human body for bioscience and biotechnology.