01.08.2014 | Original Paper | Ausgabe 6/2014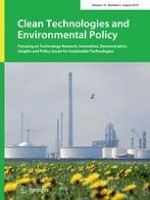 Optimal design of cogeneration system based on exergoenvironmental analysis
Zeitschrift:
Autoren:

Pooya Navid, Mohammad Hasan Khoshgoftar Manesh, Ana Maria Blanco Marigorta
Abstract
In this article, a new procedure was introduced for the optimal design of utility system in process industries. This method was based on the development of the
R
-curve concept and a new cogeneration targeting through estimating costs, environmental impacts, exergoeconomic, and exergoenvironmental analyses. In the exergoenvironmental analysis, the environmental impacts obtained by life cycle assessment are apportioned to the exergy streams pointing out the main system components with the highest environmental impact and possible improvements associated with these components. Moreover, exergoenvironmental variables are calculated, and an exergoenvironmental evaluation is carried out. In this regard, correlations for estimating the environmental impacts of cogeneration system have been introduced. In addition, the powerful and accurate cogeneration targeting method was applied. Also, the new graphic representations have been proposed. These curves are based on cost estimation, environmental impacts, and exergoenvironmental analysis. In addition, the optimal design of site utility was carried out in Iran LNG cogeneration plant, in which the usefulness of this method was clearly demonstrated.