2006 | OriginalPaper | Buchkapitel
Optimal design of smart composite laminates by the polar method and the genetic algorithm BIANCA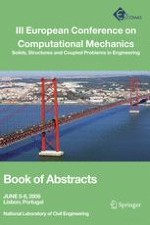 Erstes Kapitel lesen
Autoren: A. Vincenti, P. Vannucci
Verlag: Springer Netherlands
Smart and adaptive structures are designed to change some of their features in response to variations in the external environment. This is achieved by the introduction of sensors, actuators and control devices that measure these changes, and react by affecting the properties of the structure itself. Therefore, a strong interaction is present between the different parts of the system in order to behave in a smart way, which depends strictly on an integrated and intelligent design of the structure as a whole, starting with the choice of optimal constitutive material properties.
In this paper, we consider the case of composite laminates including piezoactive layers, which are among the most popular smart materials, where the application of an electric potential between the piezoelectric layers induces the laminate to change its shape by expansion and/or deflection. For most applications of this kind, it is therefore essential to tailor the behavior of laminates according to the desired response, namely it can be interesting to have laminates having null expansion and/or deflection coefficient in a given direction, or to have an isotropic expansion/deflection response under the application of an electric potential.
In a previous paper, the authors showed [
1
] a statement for this class of problems in the form of an optimization problem, where the objective function takes into account not only the electric response of the laminate but also more general elastic properties, such as elastic uncoupling, orthotropy and so on. Our formulation, which is very general and makes abstraction of any simplifying hypothesis, is developed in the framework on the Classical Laminated Plates Theory, and it is based on the polar method for the representation of plane tensors [
2
].
In this paper, we show that a general resolution is not possible analytically and we propose a numerical tool to solve the optimization problem, the genetic algorithm BIANCA. We describe the structure of BIANCA, which is adapted to take into account very different design cases, involving various design parameters.
We finally show the effectiveness of the combined polar-genetic approach in the design of smart composite laminates, by giving a number of numerical results obtained by BIANCA.