30.01.2020 | Methodologies and Application | Ausgabe 17/2020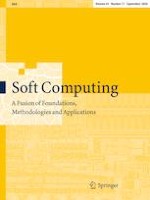 Optimal electrical load forecasting for hybrid renewable resources through a hybrid memetic cuckoo search approach
Zeitschrift:
Autoren:

Shweta Sengar, Xiaodong Liu
Wichtige Hinweise
Publisher's Note
Springer Nature remains neutral with regard to jurisdictional claims in published maps and institutional affiliations.
Abstract
Although renewable energy grows to be progressively trendier in the universal power grid, enhancing the precision or accuracy is a crucial task. Therefore, managing, operating and planning of modern power systems become difficult in case of renewable energy load forecasting. Due to the intermittent and disordered nature of renewable resources, load forecasting becomes a complicated task. The renewable energy system introduces various approaches to enhance load forecasting accuracy. This paper describes the technofeasibility and the optimal design of HRE resources such as photovoltaic, wind turbine, biogasifiers, and battery to satisfy all power demand optimally using a hybrid algorithm. The hybrid algorithm is the grouping of DRNN, memetic and cuckoo search algorithm to form a proposed HMCS-DRNN approach. This proposed approach is employed to provide better optimization performances, and apart from precision and stability in load forecasting, the HMCS-DRNN approach offers the predicted result with better efficiency and minimum error value rate. The efficiency of the proposed approach articulates by calculating the statistical measure regarding RMSE and MAPE, respectively. The simulation results describe that the performances of the HMCS algorithm provide better optimization results on various 30 unconstrained benchmark functions.