01.06.2011 | Ausgabe 2/2011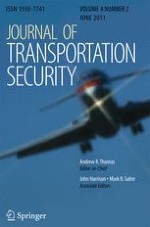 Optimal placement of sensors and interception resource assessment for the protection of regional infrastructure from covert attack
Zeitschrift:
Autoren:

Justin Yates, Rajan Batta, Mark Karwan
Abstract
This paper considers two specific aspects for the problem of protection of regional infrastructure from covert attack. The first aspect considered is the optimal placement of sensors whose goal is to detect vehicles on the transportation network that pose a potential threat to regional infrastructure. These sensors generate both true alarms and false alarms that both need response from an interception team. The second aspect of our problem is related to the sizing of the interception team and on the placement of these resources on the network. A mathematical programming model is developed for the optimal placement of sensors. This model contains a master and a sub-problem; a Bender's decomposition approach is used for solving the master problem whereas the sub-problem is solved by recognizing that it has the integrality property. For the interception team aspect, a
p
-median with server unavailability model is developed for determining locations for units, whereas the Hypercube queuing model is used for determining the performance of these units in responding to both true and false alarms generated from sensors. A demonstrative case analysis is offered for the region of Lancaster-Palmdale, CA.