Erschienen in: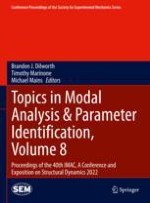 2023 | OriginalPaper | Buchkapitel
1. Optimal Sensor Placement and Model Updating of Axial Compressor Casing Components
Abstract
Experimental modal analysis of complex structures requires a good sensor concept to capture the component's vibrational behavior ideally. Especially, when the geometry is big or consists of many attached parts and the number of available sensors is limited, the sensor placement in order to maximize the gained output information is relevant. For this purpose, several methods and algorithms are implemented and tested on the stator housing of an axial compressor test rig. These procedures include among others a genetic algorithm, an artificial bee algorithm, a method based on the QR-decomposition, as well as the effective independence method. This work contributes to the provision of more validation data for real structures, which are rarely found in the literature. The resulting measurement data are analyzed in order to evaluate the qualification of the methods presented for modal parameter extraction. The positioning techniques are compared among each other in order to choose the most suitable method for the modal identification of a complex mechanical structure. Additionally, the experimental results are compared to results from a finite element model. In order to improve the fit between experimental data and numerical results, a model updating procedure is carried out.