13.01.2020 | Methodologies and Application | Ausgabe 16/2020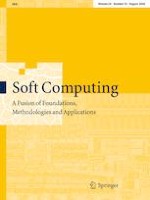 Optimal spectral and energy efficiency trade-off for massive MIMO technology: analysis on modified lion and grey wolf optimization
Zeitschrift:
Autor:

Satyanarayana Murthy Nimmagadda
Wichtige Hinweise
Publisher's Note
Springer Nature remains neutral with regard to jurisdictional claims in published maps and institutional affiliations.
Abstract
As the technology makes progress towards the era of fifth generation (5G) communication networks, energy efficiency (EE) becomes an significant design criterion, because it guarantees sustainable evolution. In this regard, the massive multiple-input multiple-output (MIMO) technology, where the base stations are outfitted with enormous count of antennas so as to reach multiple orders of spectral and energy efficiency gains, will be a fundamental technology enabler for 5G. This paper plans to implement a massive MIMO model considering the spectral efficiency (SE) and EE. Here, the main goal is to generate the optimal solutions for beam-forming vectors and power allocation. The optimal solution is formed in such a way that both the SE and EE are maximum through resource efficiency metric model. The beam-forming vectors and power allocations are generated by two modified meta-heuristic algorithm to frame a valuable analysis. The first algorithm uses the modified grey wolf optimization (GWO) termed as improved random vector-based GWO (IRV-GWO), and the second algorithm uses the modified lion algorithm (LA) termed as improved random vector-based LA (IRV-LA). Both the algorithms have the ability to solve the complex optimization problems under different applications with respect to better convergence rate, which in turn performs well for pertaining better trade-off between the SE and EE in massive MIMO technology.