01.01.2015 | Original Paper | Ausgabe 1/2015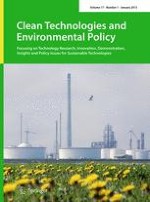 Optimisation of
biostructure

for the adsorption of petrochemical wastewater using statistical approach
Zeitschrift:
Autoren:

Mohd Shaiful Zaini, Nadirah Ismail, Chi Kim Lim, Chin Hong Neoh, Chi Yong Lam, Azmi Aris, Zaiton Abdul Majid, Fazilah Abdul Manan, Zaharah Ibrahim
Abstract
In this study, a newly developed cement-based material,
Biostructure
was used for the treatment of petrochemical wastewater with high chemical oxygen demand (COD) content (15,000–20,000 mg/L).
Biostructure
was prepared by mixing aggregates, sand, granular activated carbon (GAC), blast furnace slag (BFS), zeolite and ordinary Portland cement in specified ratio. Optimisation of its components mix ratio was carried out using statistical approach. The study shows that
Biostructure
with a porosity of 21 % and compressive strength of 8.4 MPa under optimised components mix ratio (77.00 % aggregates, 10.00 % sand, 10.00 % cement, 1.00 % GAC, 1.00 % zeolite and 1.00 % BFS) was able to remove the COD of petrochemical wastewater up to 75.00 % (13,000 mg/L COD) in 16 days. The adsorption equilibrium was found to be better fitted to the Langmuir isotherm model compared to the Freundlich model. The study indicates that the
Biostructure
prepared is a potential adsorbent for the treatment of petrochemical wastewater.