2016 | OriginalPaper | Buchkapitel
4. Optimization and Complexity Analysis on the Mapping Level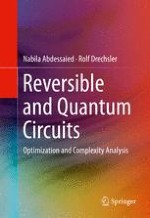 Erstes Kapitel lesen
Autoren: Nabila Abdessaied, Rolf Drechsler
Abstract
The common gate library for the synthesis of reversible circuits consists of mixed-polarity multiple-control Toffoli gates or single target gates. Such gates offer a convenient representation to model the functionality of a reversible circuit but are not universal for quantum operations. Many aspects, particularly those considering fault tolerance and error correction properties, cannot be considered effectively at this abstraction level. Consequently, after deriving and optimizing a reversible circuit for a given function as it is explained in the previous chapter, the next step consists of mapping the circuit into a quantum circuit. For this purpose, the following steps are usually applied: (1) Performing circuit transformation such that the circuit consists only of NCT gates. (2) Mapping each 2-control Toffoli gate to an optimum quantum circuit composed of gates from a given library. Many algorithms have been proposed to accomplish the first step, i.e., to map an MPMCT circuit to an NCT circuit. In the following section we review the different mapping strategies for MPMCT or ST based circuits. Then, in Sect. 
4.2
we introduce an enhanced mapping approach for the ST based circuits. Later, in Sect. 
4.3
we propose an efficient mapping methodology targeting the Clifford +
T
library based circuits in order to minimize their
T
-depth. Finally, we study the complexity of mapped circuits, i.e., reversible circuits based on the NCT gate library in Sect. 
4.4
.