2006 | OriginalPaper | Buchkapitel
Optimization of Laminated Composite Structures Using Delamination Criteria and Adaptive Models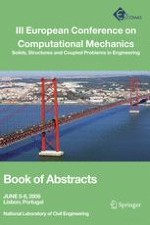 Erstes Kapitel lesen
Autoren: Leon S. Johansen, Erik Lund
Verlag: Springer Netherlands
Laminated composite shell structures are becoming increasingly popular because of good stiffness/ strength to weight properties. The matrix material bonding the fibres together is weak compared to the reinforcing fibres, and laminated composite structures thus can fail because of delamination due to high transverse stress levels. In this work the objective is to optimize laminated composite structures against delamination failure. Due to many material layers in laminates, it is necessary to reduce the number of degrees of freedom in finite element models by use of Equivalent Single Layer (ESL) elements, to be able to describe the global response of laminated shell structures. When doing so information about the detailed response of the laminate is lost and it is not possible to predict delamination failure accurately. Adaptively refined analysis models are introduced to overcome this issue.
In this paper prediction of delamination onset in laminated composite structures involve stress and/or strain based criteria, i.e., it is assumed that the process of degradation begins when the stresses and/or strains satisfy certain damage initiation criteria. In this work a criterion involving the transverse normal stress and the two transverse shear stresses is used. In order to capture these three transverse stress components, the finite element analysis model is based on continuum based 3D shell elements as described in [
1
].
Initially, the laminated composite structure is modelled using a finite element model consisting only of ESL solid shell elements. Based on the stress delamination criterion, the most critical area of the structure is adaptively refined by modeling each layer of the laminated structure using 3D continuum based shell elements. At the interfaces between ESL elements and the refined area localized Lagrange multipliers are introduced according to [
2
]. In this way the interface patch test condition is satisfied a
priori
. Thus, the analysis model is adaptively refined for the optimization process, such that reliable predictions of delamination onset can be obtained.
Having identified critical zones for delamination onset, the refined model is used as reference model for an optimization problem with regard to delamination failure. The design variables of the problem may be fiber angles of each layer. A gradient based optimization approach is applied. Design sensitivity analysis of the linear problem is performed using the direct differentiation approach, and the mathematical programming problem is solved using Sequential Linear Programming. Examples illustrate the mesh refinement, design sensitivity analysis and the optimization approach.