01.01.2021 | ORIGINAL ARTICLE | Ausgabe 2/2021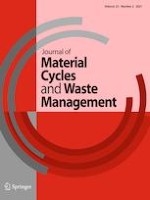 Optimization of microwave treatment for dewaterability enhancement of electroplating sludge
Zeitschrift:
Autoren:

M Humam Zaim Faruqi, Faisal Zia Siddiqui, Saeikh Zaffar Hassan
Wichtige Hinweise
Publisher's Note
Springer Nature remains neutral with regard to jurisdictional claims in published maps and institutional affiliations.
Abstract
In this study, the dewaterability characteristics of electroplating sludge have been investigated after treatment with microwave irradiation. While specific resistance to filtration (SRF) was used to evaluate sludge dewaterability, water content (WC) in sludge and soluble chemical oxygen demand (SCOD) were determined to describe the observed changes in sludge dewaterability. SRF of sludge decreased from 3.54E + 09 m/kg to 4.33E + 08 m/kg, and WC decreased from 98.56 wt.% to 94.37 wt.% after microwave treatment at 800 W and 120 s. Sludge solubilization increased with microwave power, but deteriorated at higher contact times due to adverse effects of sustained microwave irradiation. A full factorial design along with response surface analysis was applied to determine an optimum combination of microwave power and contact time for effective dewaterability enhancement. Based on statistical observations and numerical optimization using desirability function analysis, 800 W and 141 s was the optimal conditioning requirement which yielded minimum SRF and WC, while also ensuring maximum sludge disintegration.