2020 | OriginalPaper | Buchkapitel
Optimization of the Feasibility Study of an Energy Production System Based on the Wind and the Marine Current Turbine in Morocco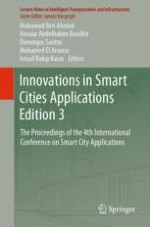 Erstes Kapitel lesen
Autoren: Rajae Gaamouche, Prince Acouetey, Abdelbari Redouane, Abdennebi El Hasnaoui
Abstract
Morocco, through its policy of integrating renewable energy into its electricity consumption, has called to all parts of its territory containing a potential for green energy. Ksar Sghir is a coastal village in the North of Morocco with huge assets at the center of our article: annual wind speed profiles around 3 m/s and for tides, the annual average is capable of reaching 1.9 m/s. The total energy consumption of the village reaches 2.17 GWh/year.
The main idea of this article will be to find a compromise between different types of energies: wind energy and tidal energy. If possible, add energy storage electrochemically and/or connect to the national grid.
Load profiles, wind speed and marine current speed will be visualized on the HOMER software at first. Then, based on unit nominal production costs for these different types of energy, the optimal installation will be dimensioned in the programming environment offered by GAMS. For the hybrid facility found, an economic simulation will be done to study the scope of costs incurred over a period of 20 years.