01.08.2014 | Original Paper | Ausgabe 4/2014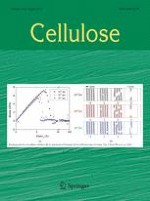 Optimization of the process of chemical hydrolysis of cellulose to glucose
Zeitschrift:
Autoren:

Silvia Morales-delaRosa, Jose M. Campos-Martin, Jose L. G. Fierro
Abstract
We studied the acid hydrolysis of cellulose in an aqueous medium with the aim of maximizing glucose yield and minimizing the formation of by-products. The influence of reaction parameters such as temperature, acid concentration, acid strength and type of cellulose precursor on glucose yield was investigated. We observed that moderate reaction temperature and low acid concentration resulted in the highest glucose yield with little formation of levulinic acid. Strong acid (p
K
a < 0) is required to achieve high glucose yield. The crystallite size of the cellulose also affects its reactivity; cellulose with higher crystallite size is more resistant to hydrolysis catalyzed by acid. The highest selectivity for glucose over levulinic acid was recorded at a reaction temperature of 413 K and a sulfuric acid concentration in the range of 0.2–0.5 mol/L. Under these reaction conditions, no levulinic acid was detected, but the glucose yield reached 20 % in only 2 h.