27.10.2017 | Electronic materials | Ausgabe 4/2018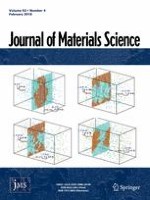 Optimized core–shell polypyrrole-coated NiCo2O4 nanowires as binder-free electrode for high-energy and durable aqueous asymmetric supercapacitor
Zeitschrift:
Autoren:

Song Liu, Cuihua An, Xiaoya Chang, Huinan Guo, Lei Zang, Yijing Wang, Huatang Yuan, Lifang Jiao
Wichtige Hinweise
Electronic supplementary material
The online version of this article (doi:
10.​1007/​s10853-017-1742-x
) contains supplementary material, which is available to authorized users.
Abstract
Cathode design is of essence for fabricating aqueous asymmetric supercapacitor (ASC) device accompanying with high energy density and long cycle life. Nickel cobaltite, owing to the high theoretical capacity and good redox reversibility, is one of the most promising cathode materials for ASC device. However, the poor conductivity and cycling stability lead to a low practical capacity. A novel core–shell structure polypyrrole-coated NiCo2O4 nanowires are rationally designed and synthesized via hydrothermal synthesis of the NiCo2O4 nanowires and subsequently electrodeposition of the polypyrrole (PPy) outer shell. By adjusting the PPy load mass, the optimized electrode shows a high specific capacitance (2302 F g−1 at 2 A g−1), excellent rate properties and enhanced cycling performance (93.9% retention of capacity after 5000 cycles). Furthermore, an ASC device based on the PPy-coated NiCo2O4 nanowires as cathode and activated carbon as anode demonstrates a high energy density of 45.6 Wh kg−1 at a power density of 362 W kg−1.