01.08.2016 | Research Paper | Ausgabe 8/2016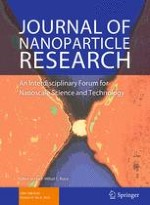 Optimized method of dispersion of titanium dioxide nanoparticles for evaluation of safety aspects in cosmetics
Zeitschrift:
Autoren:

Karina Penedo Carvalho, Nathalia Balthazar Martins, Ana Rosa Lopes Pereira Ribeiro, Taliria Silva Lopes, Rodrigo Caciano de Sena, Pascal Sommer, José Mauro Granjeiro
Wichtige Hinweise
Electronic supplementary material
The online version of this article (doi:
10.​1007/​s11051-016-3542-7
) contains supplementary material, which is available to authorized users.
Karina Penedo Carvalho and Nathalia Balthazar Martins have contributed equally to this work.
Abstract
Nanoparticles agglomerate when in contact with biological solutions, depending on the solutions' nature. The agglomeration state will directly influence cellular response, since free nanoparticles are prone to interact with cells and get absorbed into them. In sunscreens, titanium dioxide nanoparticles (TiO2-NPs) form mainly aggregates between 30 and 150 nm. Until now, no toxicological study with skin cells has reached this range of size distribution. Therefore, in order to reliably evaluate their safety, it is essential to prepare suspensions with reproducibility, irrespective of the biological solution used, representing the above particle size distribution range of NPs (30–150 nm) found on sunscreens. Thus, the aim of this study was to develop a unique protocol of TiO2 dispersion, combining these features after dilution in different skin cell culture media, for in vitro tests. This new protocol was based on physicochemical characteristics of TiO2, which led to the choice of the optimal pH condition for ultrasonication. The next step consisted of stabilization of protein capping with acidified bovine serum albumin, followed by an adjustment of pH to 7.0. At each step, the solutions were analyzed by dynamic light scattering and transmission electron microscopy. The final concentration of NPs was determined by inductively coupled plasma-optical emission spectroscopy. Finally, when diluted in dulbecco's modified eagle medium, melanocytes growth medium, or keratinocytes growth medium, TiO2–NPs displayed a highly reproducible size distribution, within the desired size range and without significant differences among the media. Together, these results demonstrate the consistency achieved by this new methodology and its suitability for in vitro tests involving skin cell cultures.