06.11.2019 | Research Paper | Ausgabe 3/2020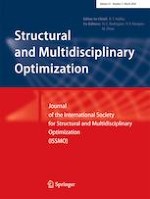 Optimizing earthquake design of reinforced concrete bridge infrastructures based on evolutionary computation techniques
Zeitschrift:
Autoren:

Vítor T. Camacho, Nuno Horta, Mário Lopes, Carlos S. Oliveira
Wichtige Hinweise
Responsible Editor: Mehmet Polat Saka
Electronic supplementary material
Publisher's note
Springer Nature remains neutral with regard to jurisdictional claims in published maps and institutional affiliations.
Abstract
This paper presents a methodology for the earthquake design of reinforced concrete (RC) bridge infrastructures based on the application of multi-objective evolutionary techniques. The purpose of the methodology is to allow better decision-making for the earthquake design of bridges by proposing optimized solutions which offer trade-offs between material quantities, performance/robustness, and cost. For this, two multi-objective problems (MOPs) were defined with two sets of objectives: the first objective set optimizes the amount of material used in the piers; the second set of objectives comprises a cost function and a performance metric. The NSGA-II algorithm was adapted and applied with real coded variables and multiple non-linear dynamic analyses performed in each fitness evaluation. The results of the runs show different Pareto fronts strongly associated with solution schema of pier-deck connections and steel distribution between piers. The results also allow to perceive the influence of ductility through the impact that certain variables in certain piers have on the performance of solutions. The importance of support conditions/connections between infrastructure and deck and of confinement of piers is clear. The results of the two MOPs show that sub-optimal solutions in terms of volume of materials used may be interesting in terms of reliability gain. In the end, the results of applying the methodology present solutions which offer trade-offs and information gain valuable for bridge design.