01.08.2016 | Ausgabe 4/2016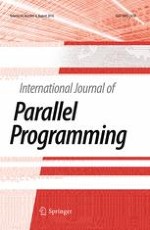 Optimizing the Matrix Multiplication Using Strassen and Winograd Algorithms with Limited Recursions on Many-Core
Zeitschrift:
Autoren:

Ayaz ul Hassan Khan, Mayez Al-Mouhamed, Allam Fatayer, Nazeeruddin Mohammad
Abstract
Many-core systems are basically designed for applications having large data parallelism. We propose an efficient hybrid matrix multiplication implementation based on Strassen and Winograd algorithms (S-MM and W-MM) on many-core. A depth first (DFS) traversal of a recursion tree is used where all cores work in parallel on computing each of the
\(N \times N\)
sub-matrices, which are computed in sequence. DFS reduces the storage to the detriment of large data motion to gather and aggregate the results. The proposed approach uses three optimizations: (1) a small set of basic algebra functions to reduce overhead, (2) invoking efficient library (CUBLAS 5.5) for basic functions, and (3) using parameter-tuning of parametric kernel to improve resource occupancy. Evaluation of S-MM and W-MM is carried out on GPU and MIC (Xeon Phi). For GPU, W-MM and S-MM with one recursion level outperform CUBLAS 5.5 Library with up to twice as fast for arrays satisfying
\(N \ge 2048\)
and
\(N \ge 3072\)
, respectively. Similar trends are observed for S-MM with reordering (R-S-MM), which is used to save storage. Compared to NVIDIA SDK library, S-MM and W-MM achieved a speedup between 20
\(\times \)
and 80
\(\times \)
for the above arrays. For MIC, two-recursion S-MM with reordering is faster than MKL library by 14–26 % for
\(N \ge 1024\)
. Proposed implementations achieve 2.35 TFLOPS (67 % of peak) on GPU and 0.5 TFLOPS (21 % of peak) on MIC. Similar encouraging results are obtained for a 16-core Xeon-E5 server. We conclude that S-MM and W-MM implementations with a few recursion levels can be used to further optimize the performance of basic algebra libraries.